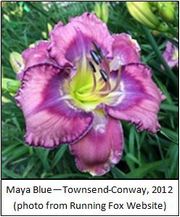 New England Daylily Society Meeting
Saturday, January 13, 2018
Downstairs at Tower Hill Botanic Garden
in Boylston, MA. Click here for directions.

Agenda
9:30 - 10:30 - NEDS Executive Meeting
9:30 - 10:30 - Members Social time
10:30 - Annual NEDS Member Photo Contest viewing and voting
12:00 - 1:00 - Potluck Luncheon - bring a dish to share
1:00 - Business Meeting and Drawing for door prize plants
1:15 - Hybridizer Presentation by NEDS member Bob Sobek; Photo Contest results revealed
Did you take some great daylily photos this past summer? Why not enter them in NEDS Member Annual Photo Contest? Photos are due by December 17th, 2017. Search through your photos for entry in the following categories:
Category 1: Single flower, Registered with AHS
Category 2: Landscapes and Garden Art featuring Daylilies
Category 3: Clumps (Entire plant) or Clusters (2+ flowers), registered
Category 4: Seedlings (Single flower, multiple flowers or clump), not registered
Category 5: People, Pets or Wildlife
Click here for a complete list of rules and how to enter.
Click on the link to see the results of the January 2017 Photo contest.

Next events:
March 10, 2017 - program TBD
April 14, 2017 - program TBD